SOTA OK/ST-087 – Na Beckove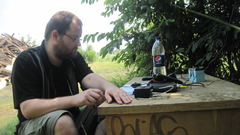 Sunday's sunny afternoon with my father at OK/ST-087. My rig was FT-817+Z100 autotuner from LDG, antenna was 10m of wire on a tree. I made 19 QSO on 40, 6 and 2m band. As you can see on photos, somebody made spoil ground from this SOTA hill (or maybe somebody made SOTA from spoil ground :-)).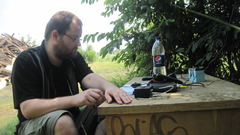 Nice table for operating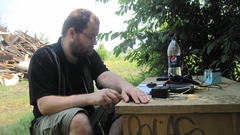 Sending CW with my portable paddle.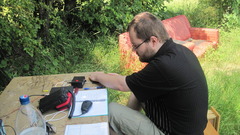 Spoil around me …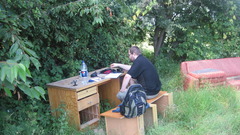 In QSO on 6m band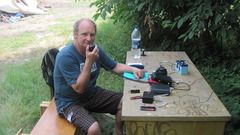 My father OK7WA is calling CQ on 40m but without any success
I made only 18 QSO: 
| | | | | | | | |
| --- | --- | --- | --- | --- | --- | --- | --- |
| QSODATE | TIME_ON | CALL | FREQ | MODE | RST_S | RST_R | NAME |
| 2010-07-04 | 12:35 | OK1OAB | 144.2 | SSB | 59 | 59 |   |
| 2010-07-04 | 12:39 | OK1VVP | 144.2 | SSB | 59 | 59 |   |
| 2010-07-04 | 12:41 | HA5TI | 7.032 | CW | 599 | 549 | Bischof |
| 2010-07-04 | 12:43 | Z35F | 7.032 | CW | 599 | 559 | Blagoj |
| 2010-07-04 | 12:44 | OE8SPW | 7.032 | CW | 599 | 579 | Paul |
| 2010-07-04 | 12:46 | DL6KVA | 7.032 | CW | 599 | 559 | Axel |
| 2010-07-04 | 12:47 | DL6KR | 7.032 | CW | 599 | 559 | Martin |
| 2010-07-04 | 12:48 | 9A7W | 7.032 | CW | 599 | 599 | Ogi |
| 2010-07-04 | 12:48 | HB9CGA | 7.032 | CW | 599 | 539 | Ulrich |
| 2010-07-04 | 12:48 | F6ENO | 7.032 | CW | 599 | 549 | Alain |
| 2010-07-04 | 12:49 | OK7MM | 7.032 | CW | 599 | 579 | Ivo |
| 2010-07-04 | 12:50 | LX1NO | 7.032 | CW | 599 | 529 | Norbert |
| 2010-07-04 | 13:07 | RU3TJ/P | 14.036 | CW | 449 | 449 |   |
| 2010-07-04 | 13:10 | DL2XL/P | 14.06 | CW | 579 | 559 | Heinrich |
| 2010-07-04 | 13:20 | SV1JGX/P | 50.0974 | CW | 589 | 599 | Manos |
| 2010-07-04 | 13:30 | IT9SGN | 50.145 | SSB | 59 | 55 | Antonino |
| 2010-07-04 | 13:35 | SV9GPV | 50.1556 | SSB | 59 | 59 | George |
| 2010-07-04 | 13:36 | SV9CVY | 50.1695 | SSB | 59 | 59 | Michalis |