Today I celebrated my 30th birthday. My wife, Misa, baked me very nice cake. It looked like front panel of my transceiver TS-930 SAT. I got two very nice books one is about psychology of men in battle – Acts of War. The behavior of Men in Battle from Richard Holmes, and the second is Flashback from Dan Simmons. I'm looking forward to read it. But I got another gift. I was really surprised.
As you probably know, I love CW. This is an advantage for me. Our sons produce a lot of noise. Twins are hyperactive and the youngest son Daniel is trying to imitate them. So you can probably imagine how it here looks like. Thanks God for CW. There is no way how to operate on SSB. The noise is very loud. I use headphones made from ear protectors. It looks like this:
It is working quite well, it can reduce the noise and I can hear the stations without listening loud sons :-). They work so well that my wife is thinking about cutting the cable to them. She is talking to me and don't know about that. The phones made from ear protectors doesn't look so good. Also the pressure to my head is very high and when I spend long time with my radio, it is very painful.
I was really surprised when I got new phones. Entire family together bought me new phones. Professional piece of equipment. They are light, don't press to my head, are very comfortable and what is the most important, they reduce the noise even better then my old one. The sound from the band is perfect, I feel very well with phones. Sons were around me and were very noisy but heard almost nothing. Misa was talking to me but I didn't noticed anything. The noise reduction is excellent (to be clear, her voice is not a noise, she can knock to my arm if I don't respond to her questions ;-)).
Picture of the TS-930SAT's cake: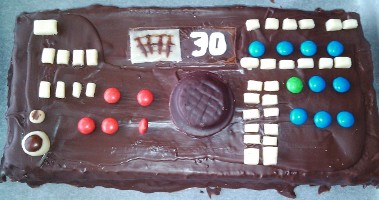 and picture of new phones: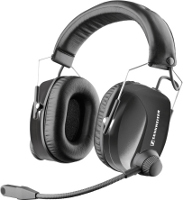 More about this phones is here: http://www.sennheiser.com/sennheiser/home_en.nsf/root/professional_aviation_passive-noise_500679?Open&row=1 I made only a couple of QSO but I love them! Thank you! All of you!